Well, helloooo after ages and ages, because…
Yep, you guessed it. I fell out of my tree again.
I don't know if I'm burned out after cranking through my last book release or just not feeling my next book idea or just not feeling writing in general. No, I've not given up on it. Oh, HECK no! My writing career is stitched into the very fabric of my…well, fabric.
I think I just unraveled some of my yarn after falling out of the tree this last time, so have been devoting 2018 to refilling my stuffing. A lot of focus on self-care and spirituality, if I'm honest, following whatever fills me with light. And that just hasn't been writing right now. Instead, I've been practicing meditation to calm my Monkey Mind, hopefully finding my focus and renewing my creative spark. I've also been indulging the lifelong learner in me by researching the crap out of crystal healing, tarot, and other metaphysical interests. 'Tis been a fascinating journey, and my flat is now super-heavier than it was a year ago with all the crystals and tarot/oracle decks I've accumulated. I can't explain the reason for the obsession, just that it's happening and I'm rollin' with it. Hopefully you'll see this incorporated in future stories!
Speaking of which, my current creative slump does not mean I'm tapped out of ideas. On the contrary, I've mapped out an entire book series and short-story anthology. I simply haven't been moving forward on these projects at the pace that I once was. And I think that's okay. I think, for whatever reason, I've needed this break to keep the joy in the writing. The marketing that comes with being published can so easily suck the soul out of the craft, so I'm just kinda done with it for a while. And so, 2018 is all about the recharge.
Anyway, I figure since this blog originated out of writer's block and got me back up in the tree at one time, it's the place to be right now! But rather than rev up the ol' writing prompts that I worked with before, why not incorporate one of the interests capturing my fancy at present? I need to do it anyway for my independent studies, so while I've used up plenty of ink and paper elsewhere, I'd like to bring part of my tarot journal online!
I started studying tarot several years ago, but it's been in the last few months that I've pursued it in earnest. I now finally understand all the card meanings (at least the gist of them) and, after countless readings for myself, I'm beginning to branch out and read for others. I really need to build my confidence in this area, though, so though I've already researched and practiced tarot to quite an extent, I've never committed to the card-a-day journaling that's recommended everywhere. I've done it in part, cross-referencing the meanings found in several tarot texts, but I've never chronicled my personal interpretations of the entire deck.
So, I want this blog to hold me to it! And hopefully refresh my writing skillz so I'm back to my manuscript before I know it. Bear with me, then, as I take this creative-writing blog on a bit of a detour to Tarot Town. It's better than staying in the abandoned ghost town this site has become!
I know, though, that this sort of thing can freak people out, like it's the dark magick of the occult, and even I once misunderstood it this way. However tarot might have been used in the past (or indeed in the present by the, uh, well, yeah, okay, occult), its modern incarnation is simply a tool for personal reflection. The cards themselves are ink on paper. Nothing more. It's what we see in them that matters, the meanings we make from their archetypes, symbolism, elements, where they're positioned in a spread and how they interrelate with each other, etc. It's a highly intuitive practice that doesn't give us the answers by predicting the future, merely enlightens us on what we already know at some level, consciously or not. And also–it's awesome.
To learn more, here's a helpful article: "How Tarot Cards Work". Besides offering background on what tarot is, exactly, it explores the scientific explanations for how it works. Yeah, science!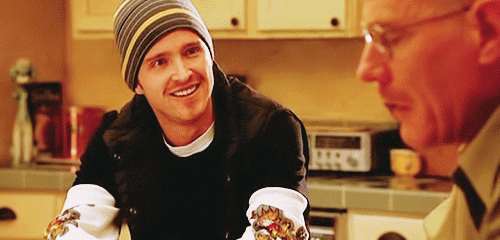 Because for as much as I love to write about my ghosties and have strong spiritual faith, I, too, like to see a scientific basis for belief. And I personally think there's a beautiful union between science and the unknown. (I study crystals within a scientific context as well, not only in terms of their geological characteristics but how their frequencies can raise our own vibrations to a healthier state. But that's a whole other can-o-wormholes that you can delve into more here.)
Anyway, I've always been big into Carl Jung, so here's what my guy has to say about all this (taken from the article linked above):
Jung believed that quantum mechanics could be a possible explanation for the phenomenon of synchronicity. […] There are those who believe that because the forces of quantum mechanics affect the reality of physical objects, Tarot cards might play the role of showing us paths and patterns and helping us understand the meaning in those guiding energies. […] While Jung did not study Tarot, he was interested in I Ching (another divination tool) and suggested that synchronicity could be an explanation for how I Ching might work for divination.
There's also the probability of this:
Some say it all boils down to your subconscious mind. Arguably, how we perceive things relies heavily on our subconscious, and there are those who believe that with Tarot, the subconscious projects its own interpretations on the Tarot cards. As a person receiving a Tarot reading, your interpretation of the cards is a result of the factors in your life that shape who you are and what you are about. The questions you have about your life […] are projected onto the pictures, so you divine answers from what you see. In this way, the Tarot is useful in helping us to tap into our subconscious to find answers that we might never consciously think of.
So, tarot is actually more psychological than magical (unless you're like me and see magic in the everyday miracles of life!).
Okay, so I completely understand that this content might not be your bag. Apologies in advance, then, to subscribers who don't want to hear about it; I hope that you'll just delete your email notifications rather than unsubscribe altogether, as the tarot-ness is only temporary.
For now, though, I'll be pulling one tarot card a day and using it as my writing prompt, responding with interpretation and self-reflection more so than creative fiction. (But if the latter should come about somehow, hey, I'll run with it! My niece actually suggested to me that I use tarot to help me plot my next story, which I think is an absolutely fab idea. If and when I do that, you'll be sure to hear about it here!)
All right, then…
May the card-slingin', poop-flingin' begin!
*